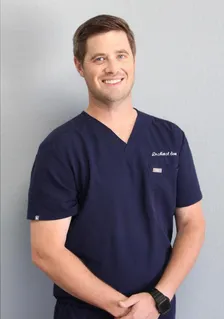 Dr. Matthew Scott has an established practice and is a top-rated chiropractor. We serve patients throughout McKinney, Allen, Prosper, Frisco area and the surrounding neighborhoods including: Stonebridge Ranch, Craig Ranch, Trinity Falls, Star Creek, and Twin Creeks for 13 years.
Dr. Scott treats a wide range of patients from Olympians, Professional and College athletes, and Families. Our practice is a very dynamic practice that can treat anyone in need of wellness/performance care through pain management. His comprehensive clinical experience is focused on neuromusculoskeletal disorders, spinal disorders and sports injury/prevention. He wants to not only treat the immediate symptoms, but focus on making the entire body well with muscle work, massage, proper nutrition, and exercise.
Dr. Scott is experienced in treating elite athletes. He has partnered with Michael Johnson Performance to treat professional athletes training in all of their programs including NFL Combine training & Draft Prep, Olympians, Elite Level Gymnasts, Professional Bull Riders, Professional Hockey, Soccer, & Polo Athletes. He is also the Official Team Chiropractor of the Allen Americans.
Dr. Scott enjoys all sports including: baseball, football, hockey, and golf. He is also an avid outdoorsman and likes to SCUBA, mountain bike, fly-fish and hunt.
Dr. Scott lives in McKinney with his wife and two children.
Education Highlights:
Bachelors Degrees: Texas Tech University & Parker College of Chiropractic
Doctorate of Chiropractic Degree: Parker College of Chiropractic

Fellowship Program: Chiropractic Hand and Foot Clinics of America, Tulsa, OK
Prenatal Certification: Webster's Technique
Chiropractic Clinical Neurology (Postgraduate): Parker College of Chiropractic
Certificate in Chiropractic Sports Medicine (CCSM)
Honors and Distinctions:

US House of Representatives Certificate of Congressional Recognition for 2022

Voted- Living Magazine Best Of for: McKinney, Allen, Prosper, Celina in 2015, 2016, 2017, 2018, 2019, 2020, 2021, 2022, 2023